>
>
The Daily Poet Companion Journal: A Creative Notebook to be used with The Daily Poet: Day-By-Day Prompts For Your Writing Practice (price includes shipping)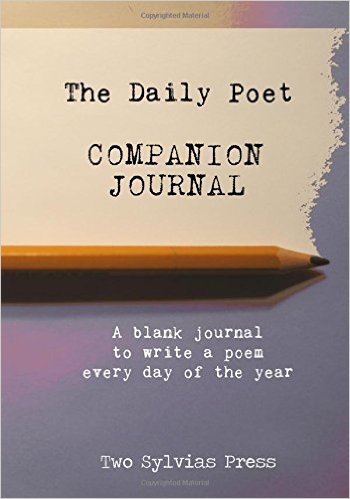 The Daily Poet Companion Journal: A Creative Notebook to be used with The Daily Poet: Day-By-Day Prompts For Your Writing Practice (price includes shipping)
SKU:
$17.00
$17.00
Unavailable
Two Sylvias Press, 2015
Created by poets for poets, The Daily Poet Companion Journal is designed to be used in conjunction with The Daily Poet: Day-By-Day Prompts For Your Writing Practice.Comprising over 370 pages with prompt titles, this journal provides space for poems, creative ideas, inspired doodles, and monthly writing goals.
The Daily Poet Companion Journal will become a poem diary of your year, capturing and organizing what you've been inspired to write. In a world of smart phones and computers, this journal is a reminder of the importance of pen to paper—your poems are waiting to be released on these pages and sent out into the world.
Now, write on. . .