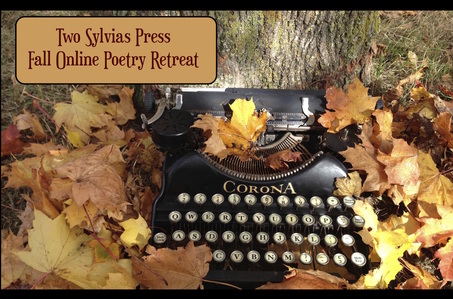 Two Sylvias Press Online Poetry Writing Retreat
Please Check Back in May of 2017 for the all new Online Poetry Retreat
This Online Poetry Retreat offers you the opportunity to write new poems and have them critiqued by the editors of Two Sylvias Press. We send you poetry prompts, example poems, creativity suggestions, and reflection questions to inspire your writing—ALL VIA EMAIL.
​
You can participate in this Online Poetry Retreat at home or on the go—all you need is access to your email and some writing/journaling time. Do as many or as few of the prompts and activities as you would like.
This online retreat is private and does not include interaction with the other participants. It's a poetry writing retreat you can do from your own home on your OWN schedule! We provide the prompts, writing exercises, & inspiration--directly to your email box!The 4-week Online Poetry Retreat includes the following:
Weekly poem prompts written specifically for the retreat.
Two of your poems will be critiqued at the end of the retreat by the cofounders and editors of Two Sylvias Press: Kelli Russell Agodon & Annette Spaulding-Convy.
A copy of The Daily Poet: Day-By-Day Prompts For Your Writing Practice (OR another Two Sylvias Press publication) and your choice of journal from our Journalette Series.
Example poems, creativity suggestions, and reflection questions to spark ideas--emailed to you throughout the week (Mon. – Fri.). Sat. and Sun. are for focused writing and revision.
DATES:
TBA
​
Space is limited.
COST
: $279
WHAT YOU NEED:
Access to email and a desire to write new poems.
WHAT WE PROVIDE:
Poem prompts, sample poems, The Daily Poet (OR another Two Sylvias publication), a
Two Sylvias Journalette
, creativity suggestions, and reflection questions/activities to guide and inspire.
*Participation in the Two Sylvias Press Online Poetry Retreat does not exclude poets from entering our contests or submitting work to us.
---
To Register for Online Poetry Retreat:Please check back in 2017
OR if you'd prefer to PAY BY CHECK, send $xxx (made out to Two Sylvias Press)

Please include a note with the following information:

1) Your full name
2) Your EMAIL address (clearly written out as all retreat correspondence is via email)

**Please alert Two Sylvias Press (twosylviaspress (at) gmail.com) that you have mailed in your check

Two Sylvias Press
PO Box 1524
​Kingston, WA 98346

​
We will send you an email confirmation at the receipt of your payment.