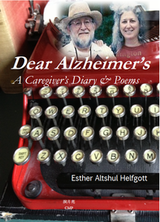 Memoir with Poems:
A poet's chronology of caregiving for her spouse who struggled with Alzheimer's.
An intimate recording of how the disease acts as a slow moving wedge to separate us from the ones we love. A powerful testament to all who love, care give and ultimately say goodbye.
292 pages. $7.99
Available on Amazon
---
An amazing walk through the experience of caring
for a husband with Alzheimer's ~

Dear Alzheimer's: A Caregiver's Diary & Poems (eBook Edition)
Esther Altshul Helfgott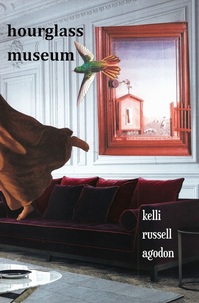 In Kelli Russell Agodon's third collection of poems,
Hourglass Museum
, the yearning to create is what moves us forward. Through car rides with Andy Warhol, temporary tattoos of Frida Kahlo, and long dinners with Joseph Cornell, we walk hand-in-hand through a paper museum where what inspires intersects with our regular lives.
Hourglass Museum
offers a dazzling selection of poems inspired by artwork and artists that explores personal relationships and the struggle (emotionally, financially, and spiritually) of living a creative life. Agodon understands the importance of how art influences our lives and how we balance delicately realizing that we only have so much time to live and create.
Hourglass Museum
is a meditation in beauty, tenderness, and knowledge reaching far beyond most poetry that's being written today.
To learn more about
Kelli Russell Agodon, visit her webpage here.
---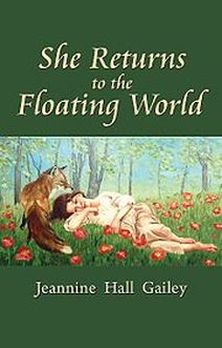 She Returns to the Floating World (Second Edition)
(Print)
She Returns from the Floating World
(eBooks)
Two Sylvias Press is thrilled to announce the re-release of the print edition of She Returns to the Floating World complete with new beautiful artwork from Michaela Eaves
.
SHE RETURNS TO THE FLOATING WORLD (Second Edition) is a book about transformation that examines two recurring motifs in Japanese folk tales and popular culture: "the woman who disappears" and the "older sister/savior." Many of the poems are persona poems spoken by characters from animé and manga, mythology, and fairy tales, like the story of the kitsune, or fox-woman, whose relationships are followed throughout the book. Gailey's abiding interest in female heroes and tales of transformation, love, and loss bristles to life with a cast of characters including wives who become foxes, sisters who become birds, and robots with souls. "I deeply admire the skill with which Jeannine Hall Gailey weaves myth and folklore into poems illuminating the realities of modern life. Gailey is, quite simply, one of my favorite American poets; and She Returns to the Floating World is her best collection yet." --Terri Windling, writer, editor, and artist ("The Year's Best Fantasy and Horror" series, "The Armless Maiden," "The Endicott Studio")
120 pages, $12.
Now available on Amazon.com
To learn more about
Jeannine Hall Gailey, visit her webpage here.
---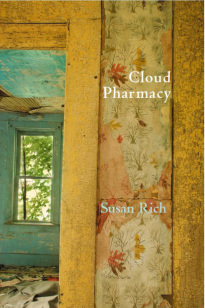 Cloud Pharmacy
(eBook) by Susan Rich
Cloud Pharmacy is a book of lyric fire. In our epoch of quick and shallow literary conversation it is rare to come across such level of attentiveness as one finds in this book. The poems in Susan Rich's fourth collection look skyward investigating what it means to fully embrace a life where time is on the run. A dual emergency strikes at the heart of this collection --- a wildfire rages across the poet's temporary landscape of southern Spain -- and a heart must reexamine the language of love. Investigations of art, travel, and desire in all its complications circle through the poems. In the The Dark Room sequence, Rich highlights the work of 19th century photographer, Hannah Maynard, who through her proto surreal images documented a journey into the psyche. We do not know what our futures hold, but with Rich's words we can move forward more optimistically.
To learn more about
Susan Rich, visit her webpage here.
---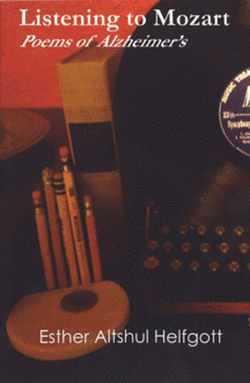 Listening to Mozart: Poems of Alzheimer's by Esther Altshul Helfgott
Following her moving memoir, "Dear Alzheimer's" about living with the gradual loss of her husband, Esther Altshul Helfgott's "Listening to Mozart" is a fitting and lovely companion collection that both takes the reader through her grieving and celebrates the husband she's lost. From the new widow's first angry bewilderment to her gradual coming to terms, she vividly conveys how alive the dead are after they've left us with their enormous absence. (Anne Pitkin)
---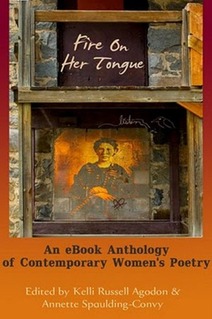 Fire On Her Tongue: An Anthology of Contemporary Women Poets
(Print)
Fire On Her Tongue: An eBook Anthology of Contemporary Women Poets
(eBook)
edited by Kelli Russell Agodon & Annette Spaulding-ConvyFire On Her Tongue: An Anthology of Contemporary Women's Poetry
was the first electronic collection of poems by women writing today. Poets Kelli Russell Agodon and Annette Spaulding-Convy, Co-Editors o
f Crab Creek Review
and Co-Founders of Two Sylvias Press, have collaborated on this ground-breaking literary project.
Featuring over 70 of the most extraordinary poets from a variety of backgrounds and whose ages span from thirteen to ninety-one, Fire On Her Tongue showcases superbly crafted poems exploring the contemporary woman's experience. Fire On Her Tongue: An eBook Anthology of Contemporary Women's Poetry includes poems by Kim Addonizio, Nin Andrews, Madeline DeFrees, Patricia Fargnoli, Annie Finch, Kate Greenstreet, Lola Haskins, Jane Hirshfield, Keetje Kuipers, Dorianne Laux, Aimee Nezhukumatathil, Alicia Ostriker, Natasha Sajé, Peggy Shumaker, Patricia Smith, A.E. Stallings, Rachel Zucker, and many other accomplished poets.
Fire On Her Tongue
is an amazing resource for any reader or student who wants to explore an in-depth selection of work from some of today's strongest women poets.
---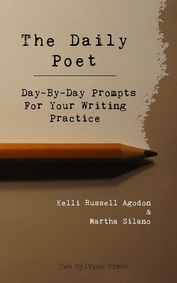 The Daily Poet: Day-By-Day Prompts For Your Writing Practice
offers a unique writing prompt for every day of the year. Created by poets for poets, this calendar of exercises offers inspiration and a place to begin. Whether you are a novice or well-established author, The Daily Poet is an essential resource for poets, teachers, professors, or anyone who wants to jumpstart their writing practice. The Daily Poet is portable, coffeeshop tested, and offers quick warm-ups for any writing group or classroom. An excellent guide for students, The Daily Poet is also a handy reference for poets looking for fresh ideas to share in their writing workshops.
388 pages, 366 unique writing prompts.
Now available on Amazon.com
---
Press Kits:
---
The Daily Poet:
Day-By-Day Prompts For Your Writing Practice

Write a poem every day of the year!

Created by poets for poets, this calendar of exercises offers inspiration and a place to begin. Whether you are a novice or well-established author,

The Daily Poet

is an essential resource for poets, teachers, professors, or anyone who wants to jumpstart their writing practice.


Click below for: Press ReleaseAuthor Photo: Kelli Russell AgodonAuthor Photo: Martha Silano

---

Fire On Her Tongue: An Anthology of Contemporary Women's Poetry

The first eBook anthology of women's contemporary poetry! And now available in PRINT as well.Fire On Her Tongue: An eBook Anthology of Contemporary Women's Poetry

includes poems by Kim Addonizio, Nin Andrews, Madeline DeFrees, Patricia Fargnoli, Annie Finch, Kate Greenstreet, Lola Haskins, Jane Hirshfield, Keetje Kuipers, Dorianne Laux, Aimee Nezhukumatathil, Alicia Ostriker, Natasha Sajé, Peggy Shumaker, Patricia Smith, A.E. Stallings, Rachel Zucker, and many other accomplished poets.

Click below for: Fire On Her Tongue Book Trailer: YouTubeFire On Her Tongue: Anthology Sampler: Media FireFull list of poets included in the anthology

---