Dear Poet,

It can be difficult sending your poems out into the world, but we thank you for trusting us with them. Please know that we will read your manuscript with care
& consideration, and that we appreciate you for submitting to our first ever chapbook prize.

Our belief at Two Sylvias Press is that good writing is great for the world.
We hope to continue adding beauty to the world and thank you for your support of our small press.

~ Two Sylvias Press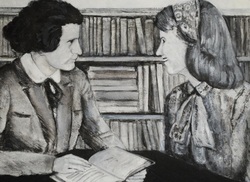 How to send us your poetry chapbook manuscript (if you haven't yet):
In body of
email,
include
short bio, manuscript title, page length, author's name, address, telephone, email, and acknowledgements of previous published poems
, if any.
Attach your 17- 24 page manuscript as an
MS Word doc or PDF and email to: twosylviaspress@gmail.com
Your name should
not
appear anywhere in or on the manuscript.
In email subject line include your last name and chapbook title.
· Electronic submissions only.
· Simultaneous submissions accepted.
· Individual poems may be previously published.
EMAIL us your manuscript by Monday, JUNE 16, 2014
Full Guidelines available here...
---